Welcome To The Banning Ranch Conservancy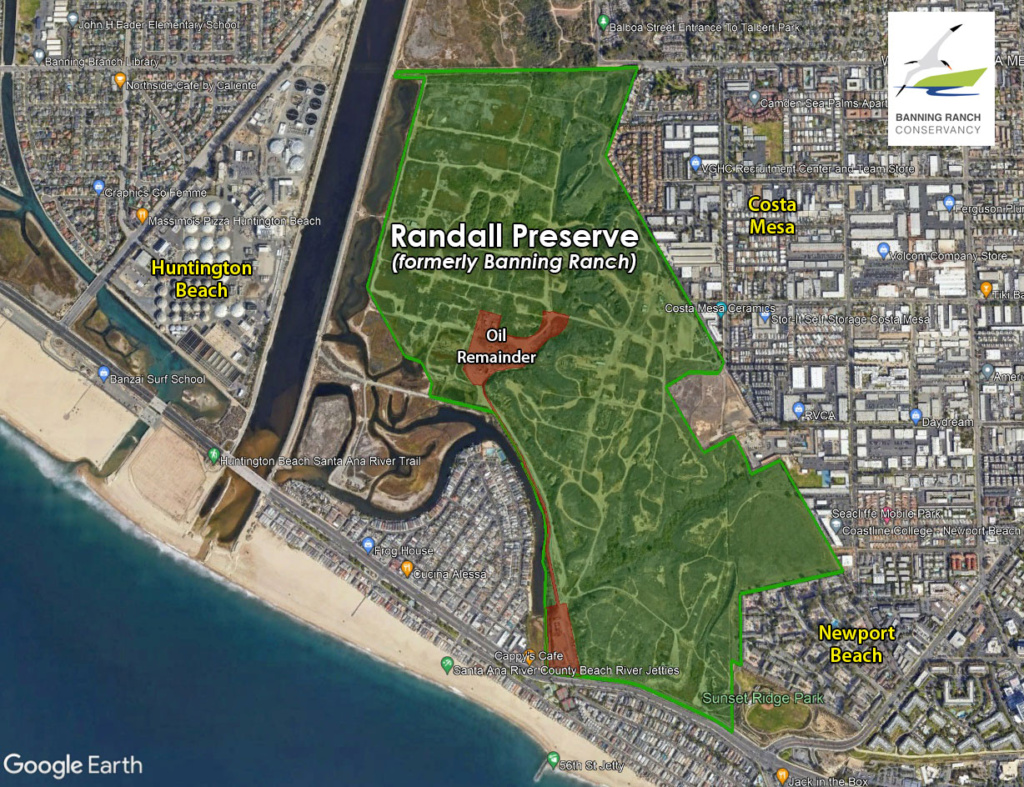 The Randall Preserve, formerly known as Banning Ranch, includes 387 acres of lowlands and coastal bluffs located in West Newport Beach near where the Santa Ana River meets the Pacific Ocean. The land was protected Friday, December 16, 2022. Fourteen acres will remain in private ownership as an oil remainder. Over the next several years, the Randall Preserve will undergo substantial clean up and some limited restoration to convert the former oil fields into a coastal park. During this time, the land will remain closed to public access due to liability issues.
With the protection of the Randall Preserve, there are now nearly 1,000 acres of protected coastal lands and waters that create a contiguous reserve system including the Huntington Beach wetlands, the Semeniuk Slough, Talbert Regional Park, Canyon Park, Fairview Park, and the Santa Ana River. Thanks to the hard work of The Trust for Public Land, the generous $50M acquisition funds from Frank and Joan Randall, and the stewardship of the Mountains Recreation and Conservation Authority (MRCA), along with many state funding partners, this land is permanently protected from future development, forever. 
The Randall Preserve supports a mix of coastal wetland, riparian woodland, coastal bluff sage scrub, shortgrass grassland, and vernal pool communities that are without parallel anywhere in Orange County. At least six wildlife species listed as threatened or endangered have been documented on the Randall Preserve: San Diego Fairy Shrimp, Light-footed Clapper Rail, American Peregrine Falcon, Least Bell's Vireo, California Gnatcatcher, and Belding's Savannah Sparrow. 
See something of concern on the property? Call MRCA Ranger Services at (310) 456-7049. If it is a true emergency, please call 911.
Passing of Frank Randall
Banning Ranch Conservancy is grieving the loss of Frank Randall, the major philanthropic donor who provided the seed money to get the acquisition of the land launched. His $50 million gift served as a match to the state and federal funds secured. Thank you Frank for your generosity. Joann and family our thoughts are with you.
In lieu of flowers, the family asks that donations be made in Frank's name to the Banning Ranch Conservancy and Pilots to the Rescue.
---
June  2023 E-Newsletter

This month, the Banning Ranch Conservancy talks about getting involved on the Randall Preserve via volunteer days. We also request Fish Fry volunteers, highlight the Santa Ana River watershed, and hope to get pledges for an August environmentally themed day of giving.
DONATION OPPORTUNITIES
Can Donations Needed for Fish Fry!
In 2022, the Conservancy opted to sell canned soda and water to Fish Fry visitors, leaving our tradition of selling roasted corn. Will you donate specific sodas to help offset our event costs? If so, we need regular Coke, Diet Coke, Sprite, Fanta, A&W, and canned water (no plastic). Liquid Death is an option. We need a receipt to provide you with a donation letter. 
GET INVOLVED
Monthly Events
Fairview Park Volunteer Days
Every 3rd Saturday 9:00 am – 11:30 am
Register
Beach & River Channel Cleanups
Every 4th Saturday 9:00 am – 11:30 am
Register
Other Coming Events
Birds, People and Dogs at the Santa Ana River Mouth | A BRC Virtual Educational Event
THURSDAY, JUNE 15th 7 PM – 8 PM | FREE ZOOM WEBINAR
Register
Aves, personas y perros en la desembocadura del río Santa Ana | Un evento educativo virtual de BRC
JUEVES 15 DE JUNIO 7 PM – 8 PM | SEMINARIO WEB GRATUITO EN ZOOM
Inscribir
Costa Mesa Fish Fry at Lions Park
Friday, June 23
Saturday, June 24
Sunday, June 25
Volunteer for a Shift!