ABOUT THE RANDALL PRESERVE
The Randall Preserve (formerly Banning Ranch) is a 397-acre parcel consisting of a coastal mesa and adjacent coastal lowland wetlands.  The property is located between the cities of Newport Beach, Costa Mesa, and Huntington Beach, where the Santa Ana River enters the Pacific Ocean.
The Randall Preserve is entirely located in the Coastal Zone and is therefore under the jurisdiction of the California Coastal Commission and subject to the provisions of the Coastal Act.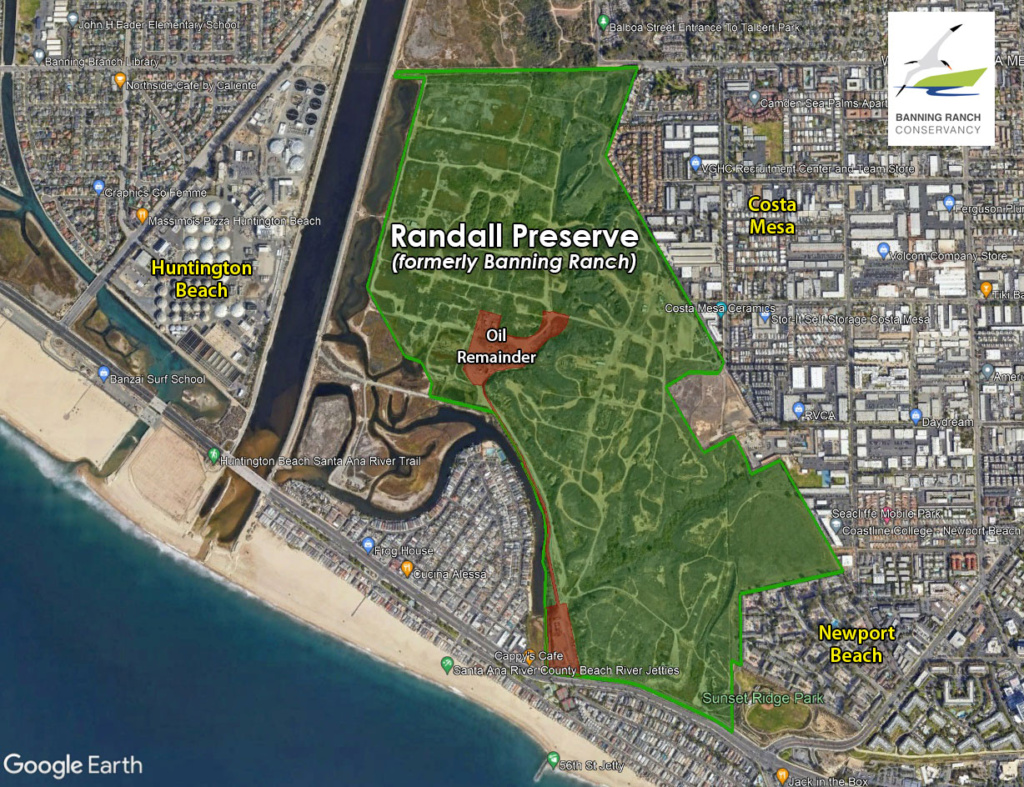 The Randall Preserve today is a small remnant of an originally larger ranch, previously owned by Mary Hollister Banning, wife of the "Father of the Port of Los Angeles" Phineas Banning.  The original Banning Ranch covered much of what is now west side Costa Mesa.
There is documented evidence of Native Nation peoples inhabiting this land for at least 3,000 years.  Because of its cultural significance, the Randall Preserve is contained within the state Native American Heritage Commission (NAHC) Sacred Lands file.  The Conservancy is working with native tribes and other experts and organizations to ensure that the Native Nation evidence is left in place and that sacred sites are preserved.
The Randall Preserve serves as a link between publicly-owned protected open spaces on the south (Sunset Ridge Park), West (Army Corps of Engineers restored wetlands, which include Semeniuk Slough) and north (Talbert Nature Preserve).  The local community is working toward incorporating these publicly-owned protected open spaces, including Fairview Park in Costa Mesa, as well as the Huntington Beach Wetlands Conservancy wetlands, into a larger coastal network of parklands.
The property has more recently served as an oil field since the 1940s.  Over 80% of the wells have been abandoned and today the oil production is less than 10% of its peak in the 1970s and 1980s.
Because of its history as an oil field, the property has escaped the high-density development that is characteristic of much of the cities of Newport Beach, Costa Mesa, and Huntington Beach.
The Randall Preserve remains one of the last examples of a coastal mesa/coastal lowland wetland "ecological staircase" and is home to native grasslands, coastal sage scrub and vernal pool habitats, as well as special status species such the California gnatcatcher, coastal cactus wren, California least tern, burrowing owl, least Bell's vireo, Belding's savannah sparrow and San Diego fairy shrimp.  Learn more about the biology of the land.
In an era where nearly all remaining privately owned coastal open space in southern California is being developed, this land is truly a gem worth preserving as the future Frank and Joann Randall Park and Preserve.