PROPOSED PROJECT FOR BANNING RANCH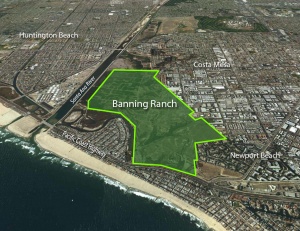 The ongoing effort to save Banning Ranch from development has been a "David and Goliath" battle, to be sure.  The following will help the reader understand the development project that has been proposed for Banning Ranch—and ultimately denied at the Coastal Commission hearing in Newport Beach on September 7, 2016.
Formed in 2005, Newport Banning Ranch, LLC, also known as NBR, is a limited liability corporation consisting of the Banning Ranch surface rights owners (AERA Energy, LLC, and Cherokee Investment Partners, LLC) and local development company Brooks Street.  NBR has been the business entity actively seeking development entitlements for Banning Ranch for over two decades.
A Brief Timeline of the Proposed Project
2008      NBR submits plans for a project proposal to the City of Newport Beach
2012       The City of Newport Beach approves the draft Environmental Impact Report (EIR) for the NBR project proposal.  The Banning Ranch Conservancy (BRC) litigates, claiming that the City of Newport Beach's approval of the EIR did not comport with the California Environmental Quality Act (CEQA).
2013      In November, the Orange County Superior Court rules on Banning Ranch Conservancy vs the City of Newport Beach, deciding in favor of the BRC.  In December, the City of Newport Beach appeals the Superior Court's ruling.
2013       NBR submits their project proposal to the Coastal Commission and applies for a Coastal Development Permit (CDP).
2015       NBR's project proposal is brought before the Coastal Commission in October, in Long Beach.  The Commission, rather than taking a vote, instructs NBR to work more closely with the Commission's staff to find a project proposal that is consistent with the Coastal Act.
2016      The Court of Appeal decides in favor of the City of Newport Beach.  The Banning Ranch Conservancy appeals the ruling to the California Supreme Court and the high court unanimously agrees to hear the case on all issues.
2016      A slightly revised version of NBR's project proposal (see below) is brought back to the Coastal Commission in September at a public hearing in Newport Beach, and is denied on a 9-1 vote.  A victory for David over Goliath, and for all the environmental organizations and hundreds of Banning Ranch supporters who came together and made their voices heard!
2017       The Supreme Court justices unanimously rule that the City of Newport Beach failed to follow CEQA in approving the EIR for NBR's Banning Ranch proposed project.  The result is that the City of Newport Beach must vacate their approval of the EIR for the project.  David prevails again!
NBR's Proposed 895 Residential Unit Project
Development Impacts on Banning Ranch ESHA